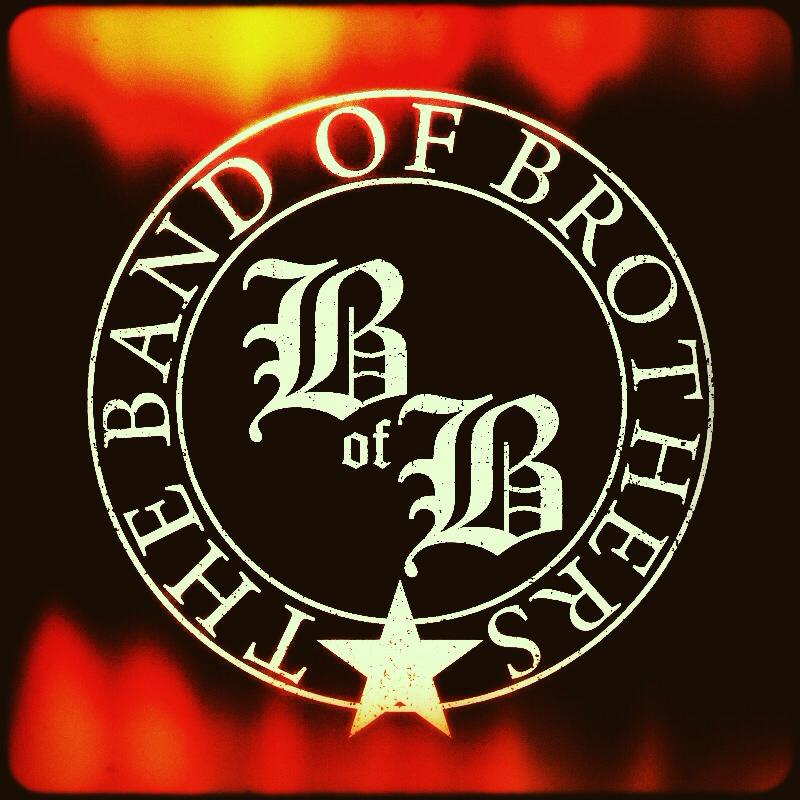 Graham Bonnet + Band Of Brothers @ The Robin, Bilston, Wolverhampton – Monday 17th March 2014Mar 23, 2014 | Comments 2
Review by Woody, photos by Rich Ward
I was really looking forward to seeing tonight's support act Black Country rockers Band Of Brothers. The band formed after vocalist Lee Small gathered a group of friends to be his backing band as he played some live shows to promote his solo album Jamaica Inn a few years ago. This led the group to quickly kick start a whole new band and they have been hard at work writing new songs and solidifying themselves as a live unit.
Besides Lee on vocals there is Guitarist Carl Anthony Wright, Drummer Dez Wotton, Guitarist Connor Emms, Bassist John Hayward and Saracen keyboardist Paul Bradder. As a fan collectively of all the musicians' individual bodies of work I'm very excited about hearing what they create together, the fact most of them are Black Country born and bred means they suffer with the heavy burden, just like me of having been born awesome, so I have high expectations of them!
As a five piece they don't get much stage space, but they have a headline show ready for the Rock for Spon charity night, so they'll be able to have more freedom to move that night. Small is an amazing versatile vocalist but tonight sees him singing his own songs with confidence with no trace of the nerves or timid-ness which I have seen in the past. As a live band, they came across as tight unit and I'm sure they won plenty of new fans tonight and leaving many people wondering how the hell such a collective of talented musicians are not household names!
Band Of Brothers
Band Of Brothers
Of the Lee Small tracks from his solo album Jamaica Inn they stay faithful to the style and sound of those songs, they had cherry picked the ones they thought would sell them best in the live arena. The commercial flavour of 'Dead Man Walking' made it an obvious choice. For me the real highlights were the new tracks; Ballsy, driven melodic hard rock with a glossy sheen which I was shocked but delighted to hear. Bradder's keyboards were never overpowering but always added a cool melodic sheen to the songs. Small, although in his element, seemed caged and dying to have more room to move which gave some real fire to his stage presence. Carl and Connor both exchanged rhythm and lead guitar duties, flitting with ease from big powerful power chords to intricate and intensely melodic guitar licks – to say I was impressed is an understatement.
The opening duo of 'Middle Man' and 'The Holy' made a massive impact and definitely grabbed and maintained the crowds' interest. I had expected good things but even I was left a little 'oh bugger me, this is a little bit special ain't it!'. 'Death On The Nile' maintained the bands impressive presence mid-set and they closed with the riff-tastic and sing along awesomeness of 'The Devil's Daughter' a song set to get future crowds fist pumping and joining in! After this short but amazing set, I could have quite easily gone home with a big grin on my face.
If these guys don't at least make some noise in the world of melodic rock there is no justice in this world – NONE! These guys make many musicians in the genre look like amateurs and if a band like H.E.A.T can get everyone squealing like girlies than surely the Band of Brothers will get us roaring!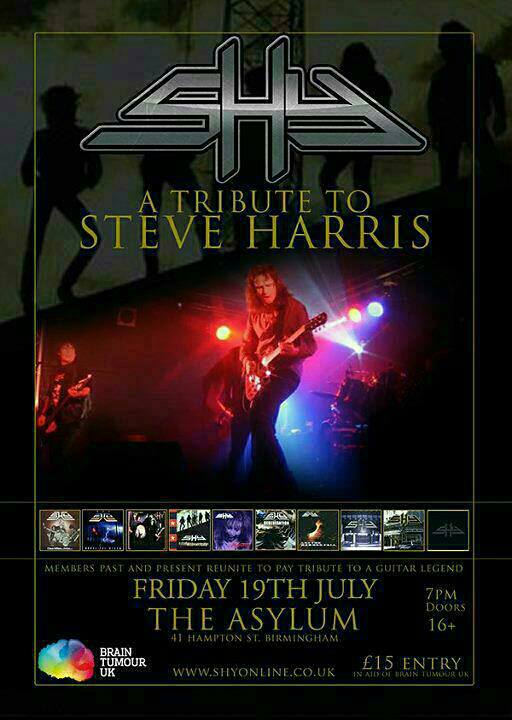 Tribute To Steve Harris / Brain Tumour UK Charity Event:By Dan Mann
TRIBUTE TO STEVE HARRIS / BRAIN TUMOUR UK CHARITY EVENT:
"A MASSIVE SUCCESS"
(23 July 2013 – Birmingham, UK)  Last Friday night, July 19, about 500 people came together at The Asylum in Birmingham, England for a very special event – The Steve Harris (SHY) Tribute and Brain Tumour UK charity event.  "It was amazing to see so many people come together to support a great cause and to pay tribute to a wonderful man and a great musician. I cannot believe how generous people were. When I decided to organize a raffle I was overwhelmed the by the donation of prizes," replies Pamela Mills. "I anticipated that I would raise around 200 pounds but people were queuing to buy tickets. The total of 650 pounds for just the raffle alone totally exceeded all my expectations".
The event, which hosted esteemed hard rock heroes SHY raised around $7,000 on the night to donate to Brain Tumour UK in Steve's name with more money pouring in from online auctions, as well.  "The event was absolutely amazing," says Shy keyboardist, Joe Basketts. "So many people came together to make this happen and on the night nearly two years of hard work just fell into place. The support we received from friends, fans and other musicians has been overwhelming, without which we could not possibly have put this show on."
Several items were raffled off and are included in an online auction, including autographed guitars from George Lynch, Michael Schenker and the members of SHY, a Blackstar amp autographed by ZZ Top's Billy Gibbons, drum heads autographed by the members of Magnum, autographed artwork from fantasy artist Rodney Matthews, who designed a total of ten Magnum album covers, an autographed Ozzy Osbourne poster and an autographed TNT jacket amongst various other autographed CD's, records and t-shirts.
Steve Harris was struck down with a brain tumour in June of 2009 during the recording of the band's self titled swansong album (and thirteenth release overall) and succumbed to the neurological disorder in October 2011.  He was an extremely beloved person in the hard rock community, not only respected for his incredible talent but also as someone who had a positive affect on everyone he came in contact with.  Steve was the founding member of SHY (initially called Trojan) at 17 years of age and played on every album the band recorded from 1983 to 2011."Steve Harris was one of the nicest and most down to earth blokes you could ever hope to meet," says Roy Davis. "As talented as he was there was never any sign of ego at all.  He was the most humble member of the band!  He should have gotten more   recognition than he did.  Who knows, maybe if he had put himself 'out there' a bit more, was more flashy, more over the top, whatever, he might have been."
 The current members of SHY (vocalist Lee Small, bass player, Roy Davis, keyboardist Joe Basketts and drummer, Bob Richards) were joined onstage by friends Neil Hibbs and Carl Anthony Wright, who played Harris' parts on the older songs, whilst Harris' own guitar parts were taken straight from the multitracks and played using a click track through the PA system for the songs from the latest album.  One of the many highlights of the evening was original frontman, Tony Mills joining the band onstage for a run through of some of the classic hits. "It's been over twenty years since I performed with SHY to any great measure, but the rehearsal went as if it was only yesterday," says Mills. "I have to attribute that to Steve's writing and undeniable flare in composition. A truly great artist, taken from us much too soon; it was an honour to be part of such a fitting tribute to one of the most professional musicians I have ever performed with."
Roy Davis on Steve Harris:"Steve was always on time, never missed a day of work.  He had never been sick.  He's never smoked or drank.  When we were on tour, the rest of us would go out and get drunk every night and he never did.  He really was the epitome of someone who lives the clean lifestyle. And this happened to him.  There are a lot of people asking, 'why him and not me?' There's no reason to anything in life in that this would claim the life of a guy like Steve Harris."
You can take part in the online auction by visiting: http://bit.ly/1aFfg9O
The Steve Harris Memorial can be viewed at: www.steveharrismemorial.co.uk
Keyboard player, Joe Basketts has set up a Facebook page to share, view and add photos and videos from the night at: Pictures And Videos From Steve Harris Tribute 19th July 2013
Links:
www.steveharrismemorial.co.uk
www.shyonline.co.uk
www.justgiving.com/steveharrisfoundation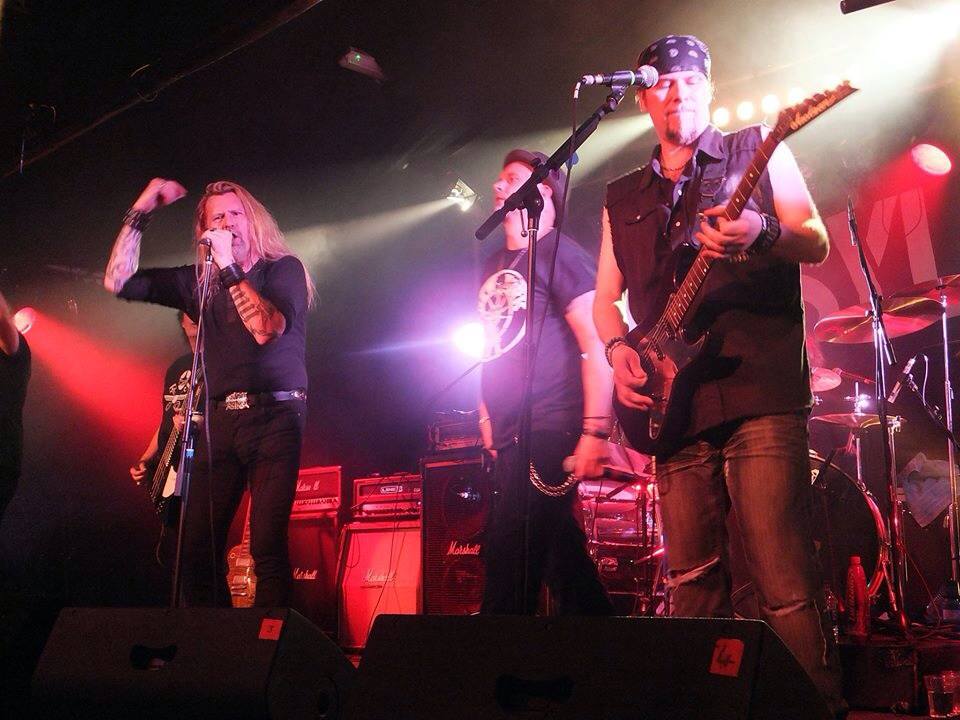 Shy – A Tribute to Steve Harris @ The Asylum, Birmingham (19/7/13)posted 29 Jul 2013 07:40 by Paul Woodward
Review by Woody
Well what an amazing evening this turned out to be and a heartfelt celebration of Steve's songs. I did think the evening may have been tinged with sadness and I'm sure for those close to Steve it was but for most it was a joyous uplifting goodbye to a rare and much missed talent from the world of AOR. It was cool to see people from all over the country coming out to support this charity show and it was great to bump into some old friends as well as bump into some internet buddies for the first time. I'm sure tonight raised quite a bit of money for Brain Tumour UK after a lot of hard work put in by the band and also Steve's wife Debbie who also helped organise the bumper bonanza Prize raffle amongst other things!
Although I refuse to complain about our current heat wave as I love it, it did feel like an oven in the Asylum! I had been totally unaware that there was to be a support band tonight, although the two sets of keyboards should have been a big clue. So local melodic rockers the Ian Danter Band took to the stage, now I've never heard of these guys but the rapport they had with the crowd had an air of familiarity, leaving me totally bamboozled! So someone's left me out the loop on these guys, why they hell I am oblivious to these guys!
Now I don't want to be overly negative about these guys as they were here supporting the event, but I found the songs quite generic and they always lacked that killer punch or hook that would draw you in. There were elements to the songs I enjoyed and they were definitely a suitable support act who are a 50/50 Yam Yam and Brummie hybrid. It just goes to show we do get along with our Brummie brethren sometimes!
Now in the current melodic rock scene decent Keyboard players are rarer than rocking horse poo, so when a young glamorous woman takes to the key's who is introduced as a Yam Yam, I'm thinking I've died and gone to heaven! I was genuinely impressed with Jenna's keyboard skills and I really hope to hear more from her in the future, melodic rock keyboardists are a rare breed here's hoping she can bring something glamorous to the scene!
Tonight's first set from Shy features Black Country vocalist Lee Small and consists of songs written for the final Shy album. Many fans and critics have hailed the last Shy album as one of the bands best and this is our first and last chance to hear these songs performed by Shy. Personally the last Shy album was an absolute masterpiece and it's an album I still play regularly and enjoy. The current line-up takes to the stage – Roy Davis (Bass), Joe Basketts (Keyboards), Bob Richards (Drums) Carl Anthony Wright (Guitars) and Neil Hibbs (Guitars).
I thought it was a really nice idea to have Steve's guitar parts played through the PA's but I did really worry that this heart warming gesture could actually hinder the set and could potentially fall flat. My worries were quickly swept aside as we are treated to a full on pompous soaring AOR performance, obviously well rehearsed and organised to make everything run smoothly and naturally. It was extremely well executed and the crowd loved every minute of it! It's a tribute to the quality of these songs that fans were singing loudly to each and every one of them like they were all well established Shy classic's of yesteryear.
Lee is a very natural front man and he is very entertaining to watch and is completely at home at the front of stage. It's a crying shame that it hasn't been until recent years that Lee has gathered the support and respect he truly deserves as a vocalist. He's an extremely diverse singer who can sing many different styles and he knows how to sing AOR perfectly and tonight he just blew us away with a faultless and very emotive performance. Hopefully know he's starting to get more recognition we will hear lots more from Lee!
There are lots of big pompous keyboards on the last album so Joe has plenty to do and as many AOR fans do we love our Keyboards so it's no surprise that when Joe is introduced he gets probably the loudest cheers. It was a bang on performance from Joe delivering all those lush beautiful keyboard moments that have become firm favourites with me. Bob and Roy provided a bit of oomph to proceedings giving the songs a bit more power live, both perform like Old pro's and deliver the goods. Tonight sees the introduction of guitarist's Neil Hibbs and Carl Anthony Wright who are breathtakingly amazing and I'm sure Steve would have been very proud of them. It was plain to see Neil and Carl had put a hell of a lot of time and effort into their preparations for tonight and both wore massive smiles with every response they received from the crowd.
It's hard to pick highlights with every song really hitting the musical g spot, 'Ran Out Of Time', 'Blood On The Line', 'So Many Tears', 'Only The Night', 'Pray', 'Over You' and 'Union of Souls'. I adored the wonderful backing harmony vocals on 'Union Of Souls' which also saw Lee holding one of Steve's guitars in remembrance. Lee spoke about Steve in between songs and whilst it was sombre it was never overly sentimental and a fitting tribute to the underappreciated song writer.
We have a short interval in which Phil Docker and Ian Danter draw the raffle, which turned a little bit manic! I do have to mention Phil as his name was praised from the stage a lot as he had put a lot of behind the scenes work into making this show work, especially in making sure the first set run smoothly!
The closing set of greatest hits sees legendary front man Tony Mills take the stage to front Shy one last time. Tony was on form and all the diehard fans were treated to an excellent performance from the bands iconic singer. Having known Steve for almost a lifetime Tony gives us a few thoughts and anecdotes about the man and keeps the jubilant feeling which fits into tonight's tribute, it never feels sad but it does keep Steve in your thoughts.
Again as I've previously stated the band kept their fantastic performances up and we get a fantastic set of classic AOR, it's a rare thing now a days to see a pure AOR band live and it's great to see SHY go out on such a triumphant high. So we got to sing along to 'Telephone', 'Can't Fight The Night', 'Emergency', 'Skydiving', 'When The Love Is Over' and 'Give It All You Got'.
'Break Down The Walls', closes the set and it sees Tony and Lee share centre stage, although Tony makes us sing happy birthday to Lee first! It's a great combination of past and future Shy on vocals, both men showing with ease what great vocalists they are and why they are so well loved by the audience. As the band leaves the stage Neil Hibbs grabs Steve's Guitar and places it on a stand centre stage, a really nice gesture and a reminder of why we are here!
There aren't enough superlatives in the world to fully express what an awesome show this was, pure AOR delivered perfectly from start to finish. A great atmosphere and showering of love for Steve made it a truly fitting goodbye to the man and also the band. Shy may be no more but we still have the music and the memories! R.I.P Steve